IN THE STUDIO
The Pursuit of Excellence
A sneak peek inside my world of sculpting. I have listed a few projects and will continue to post new work as it comes. Please take a moment to see the creations in their early steps. It's fascinating work and I hope you enjoy seeing how it all comes to be.
DRAGON AT THE CONVENTION CENTER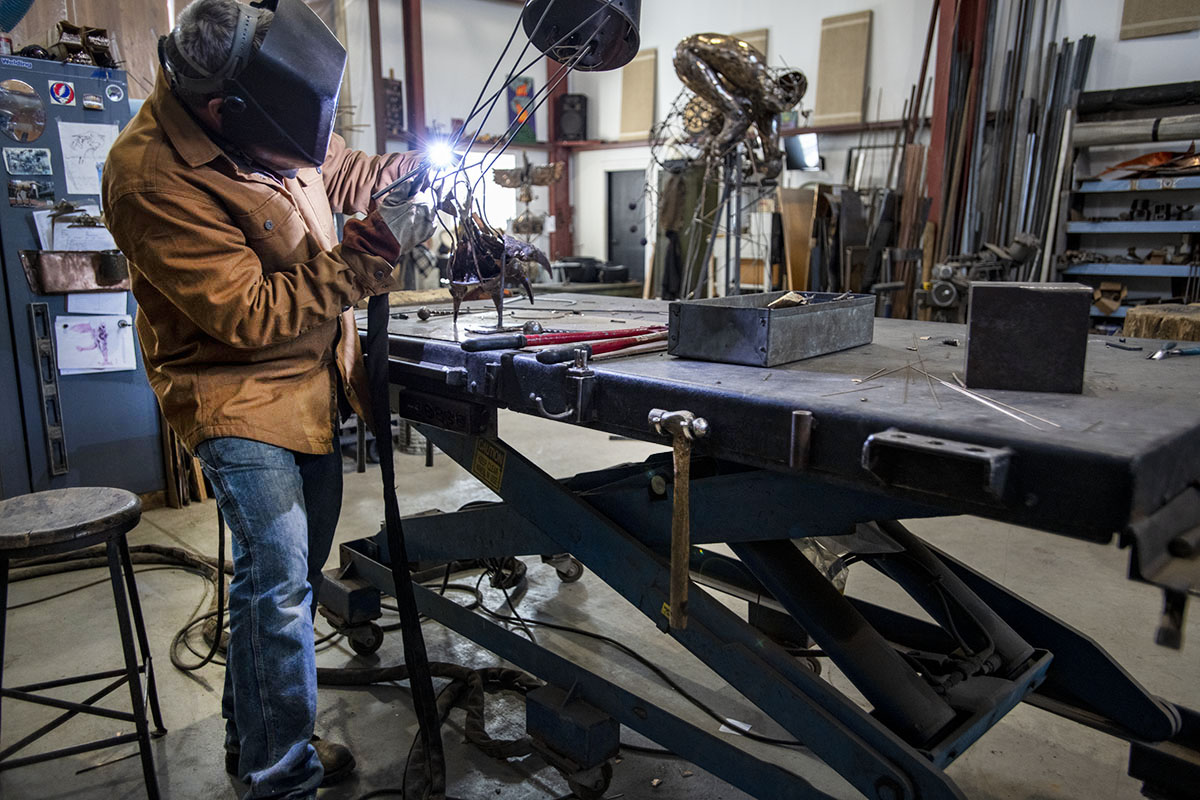 A symbol of deliberate strength, this dragon sculpture will keep watch over the BCEC Garden in South Boston. Greeting the guests of the garden with a proud confidence. For generations "Dragon on D" will inspire our youth and provide a place for reflection for those who've seen the years go by. Such a fun discovery to find while out for the day. He will command pause if just for a moment.
This sculpture is being created in forged bronze and detailed with varying textures. Total approximate height is 18' with a base of 5' x 5'. Very excited to be creating this wonderful beast for the MCAA.
We will be posting photos and videos along the way, so feel free to come back and watch the progress.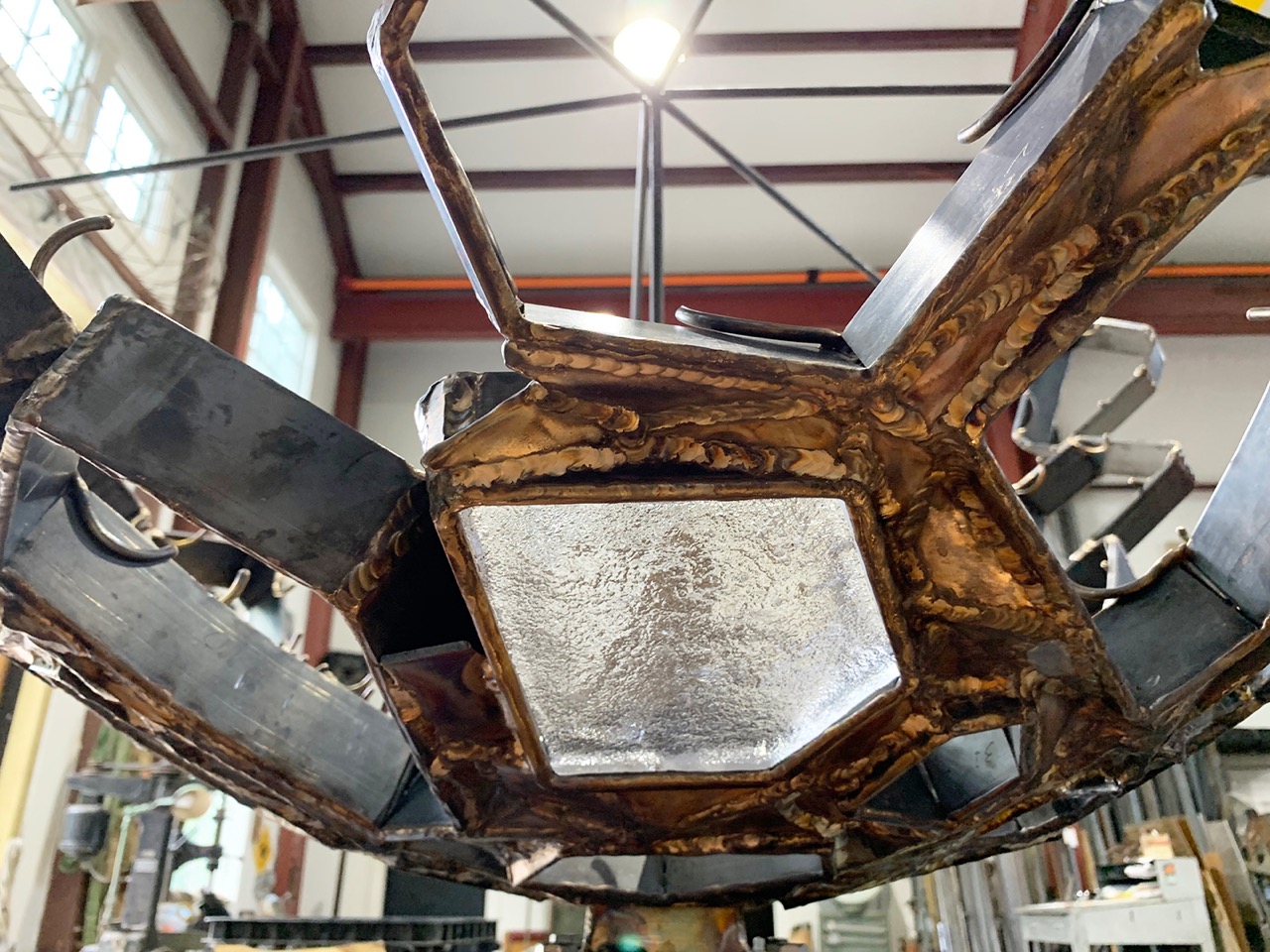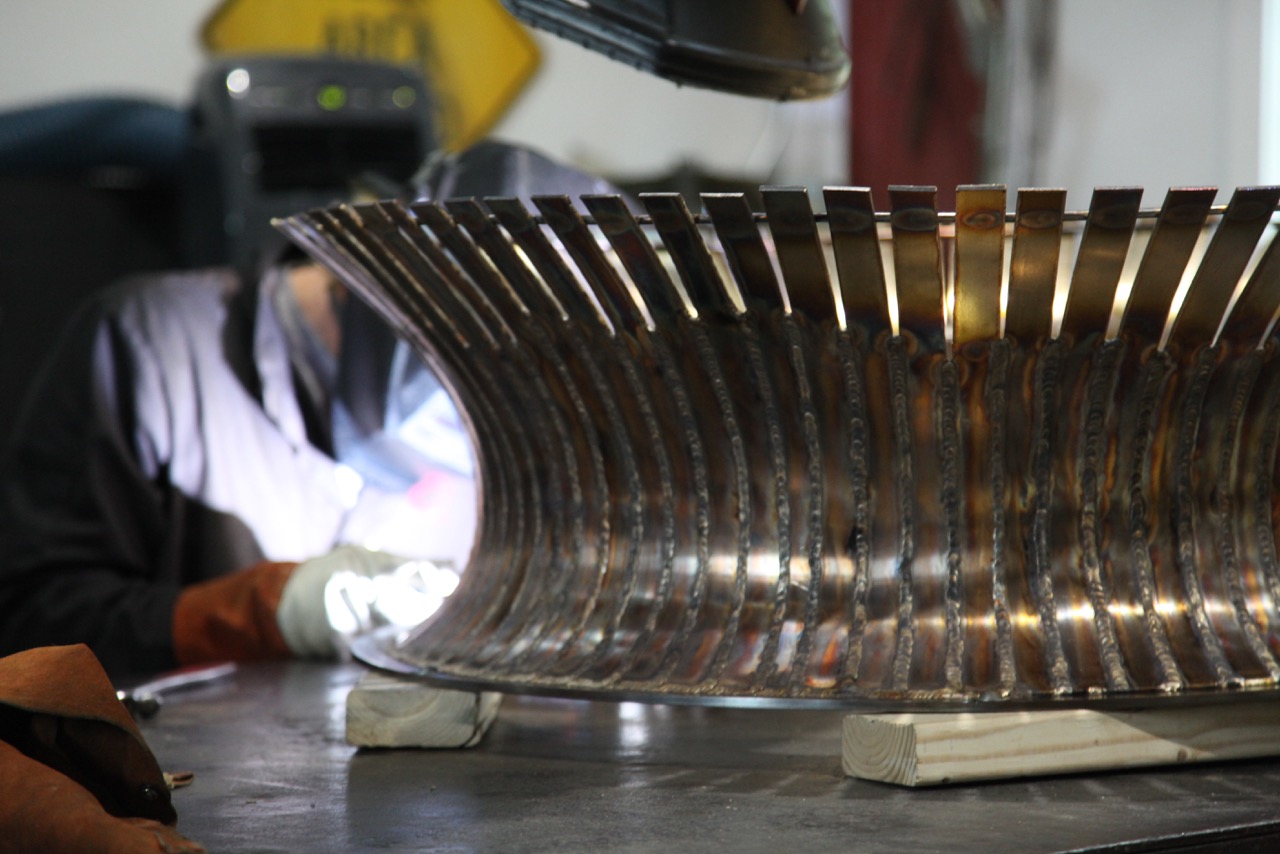 Something new. A mix of glass and bronze yes, but in this case, a faceted ball of tiled glass will float between two curved spires. This is a contemporary version of the Eye of Sauron. Lord of the Rings has inspired this creation. Beginning with molds, we cast hundreds of glass tiles. Each piece of glass is over 1" thick and has been poured into a sand pit, resulting in a crystalized surface. The glass was poured into molds that are slightly tapered so the sides of each tile are angled just enough so the pieces will hold into their frames perfectly without dropping through. After each tile is poured, we allow a period of time for the glass to firm up before resting them on a curved steel plate for their final slumping into the radius we need. So amazing to have this control over something that typically is flat and uninspired.
Come back to see how this piece progresses.
2018 - The Fire Breather...The fascination with dragons continues. I'm drawn to their free spirit, aggressive mischief and prehistoric looks. When I was ready to create this beast, there were three goals in mind: to capture a moment of proud strength, to show agility and balance, and to give him the dragon's breath he deserves. With his wings spread, this dragon breathes fire. A propane-fueled blaze shoots from his mouth with the touch of a wireless button. Piece made of bronze, copper and steel. Standing 14' tall and 9' wide he makes a huge statement. This dragon resides as a driveway entry piece on a private estate. Motion sensor activated, he greets the visitors as they enter the property. My imagination ran wild with this one and It never gets old.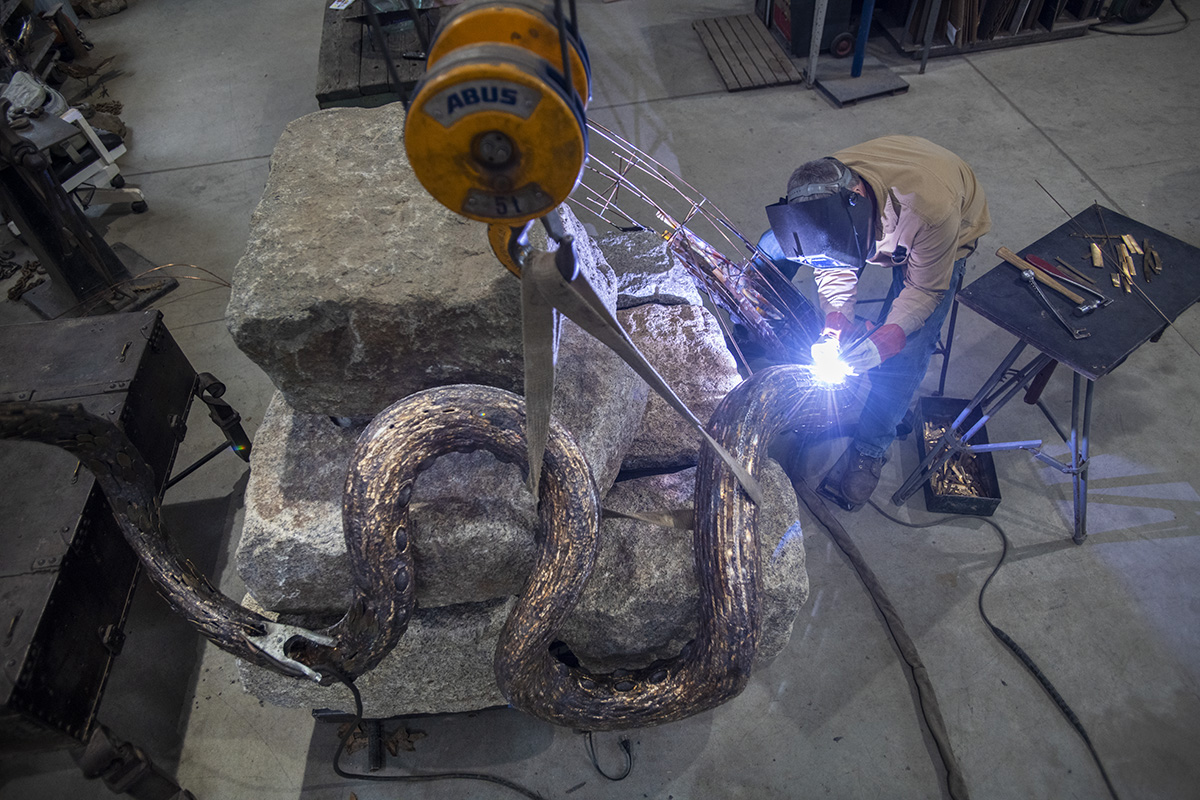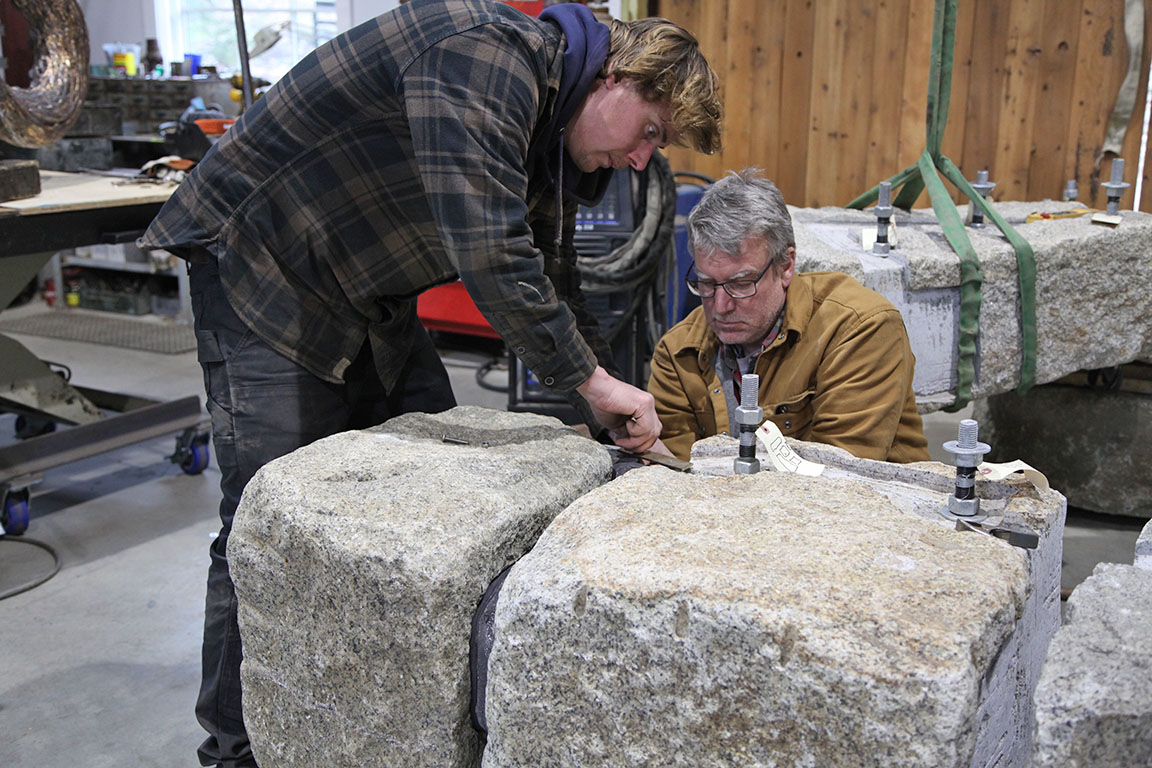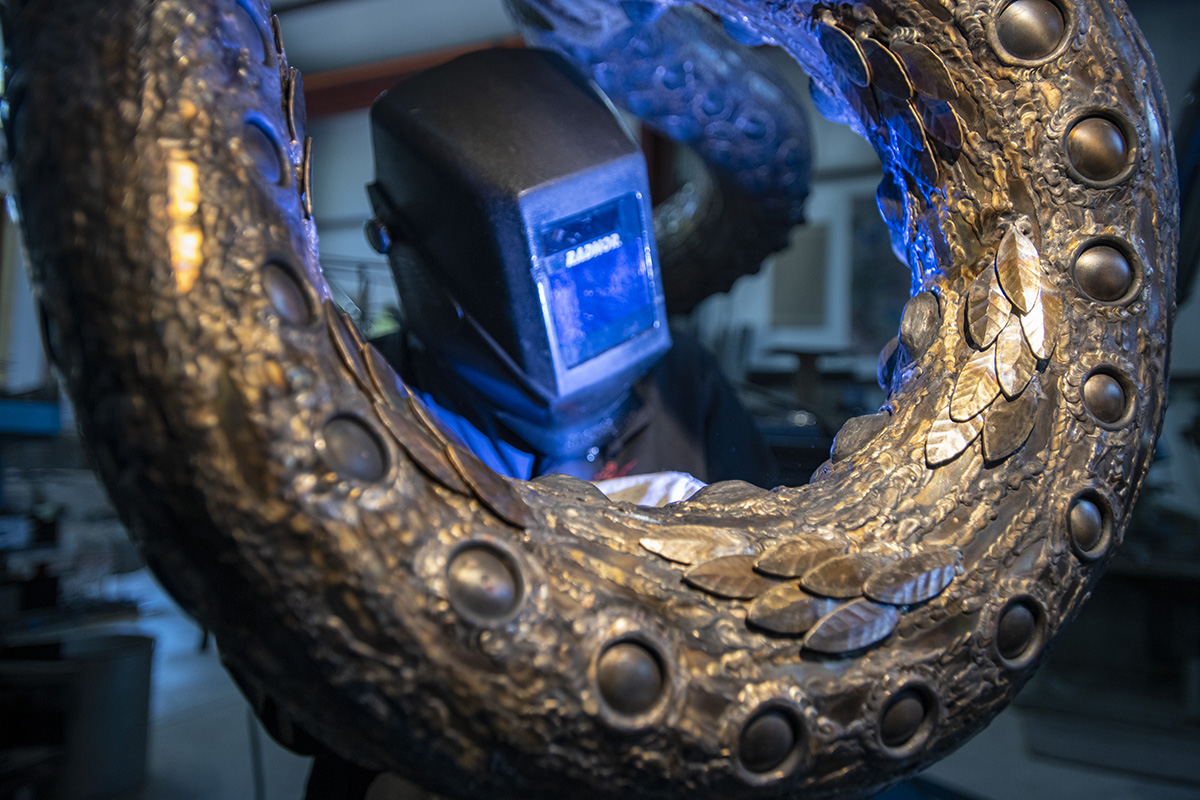 A Sea Serpent hand-fabricated and forged in bronze sits on top of vintage Cape Ann granite blocks. These blocks are used as the base for this giant sea creature. Custom glass fills the seams between each block, forming a glass mortar effect. This glass feature is lit from within, creating a gentle light between the granite stones. Approximate size for this piece is 9' tall with a 7' base.
We're very honored and grateful to have created the Gloucester Sea Serpent for the Cape Ann Museum. www.capeannmuseum.org
2014 - Greyhound in stainless steel commissioned by a Tennessean man and donated to the Tunica Humane Society in Mississippi. The Greyhound is hammered and formed into shape. Play pose and full of beans this greyhound captures life. Done in an abstract way, the muscles are still tight and he appears to be ready to jump. This is the third greyhound that will be completed. I think they all have a way about them. Great dogs!